Carrick's St. Patrick's Day Parade Winners
[ Posted on April 17, 2018 ]
The presentation of prizes for Carrick's St Patrick's Day parade took place on Wednesday 11th April at the Chamber Office.  The judges found it difficult to pick the winners from the large representation of community groups, clubs, schools, organizations and businesses but finally decided on newcomers to our parade Mc Hugh's Bar as the Best Overall Entry.
Parade Winners by category:
Best Overall Entry  –  Mc Hugh's Bar -  Sponsored by Gannons Eggs and Poultry.
Most Creative Entry –  Scoil Mhuire -  Sponsored by Cox's Pharmacy.
Best Children's Entry – Carrick Rugby Club – Sponsored by Mulvey's Kids Kingdom.
Best Youth Entry –Áirc Damhsa Dance Cub   – Sponsored by Carrick Cineplex.
Best Club Entry -   Kilmore Inn Vintage Club –  Sponsored by Supermacs.
Best Window Display –  Brady Insurance  – Sponsored by Gallagher Auctioneers.
Well done to everyone who took part.
A big thank  you to our very popular Grand Marshal Frances Cryan who led the Parade through the streets of Carrick on Shannon in Jim Gannon's Vintage 1934 Morris Crowley and was given a guard of honour by members of Carrick Rowing Club as she approached the reviewing stand where she was greeted by Chamber President Colm McGrath who presented her with a bouquet of flowers.
Carrick Chamber would like to thank all our Prize Sponsors, the Army Colour Party, our Grand Marshal, Frances Cryan, Jim Gannon, Eilish Beirne our MC,Kilmore Signs,  Gerard Faughnan and Keith Nolan for their photos of the event. A big thank you to our stewards Eugene, Stephen and all the Tidy Towns volunteers, the Gardaí, the Chamber office staff and to all the businesses that were open to cater for the needs of a large number of visitors. Photos of the parade can be seen on our Facebook
Page: https://www.facebook.com/StPatricksDayParadeCarrickonShannon/
Kilmore Inn Vintage Club winner of the Best Club Entry – Sponsored by Supermacs
L-R:   John Healy, Andy Mochan ((Kilmore Inn Vintage Club), Gerard Casey (Supermacs),  Colm McGrath (Carrick Chamber President) and John McCabe (Kilmore Inn Vintage Club)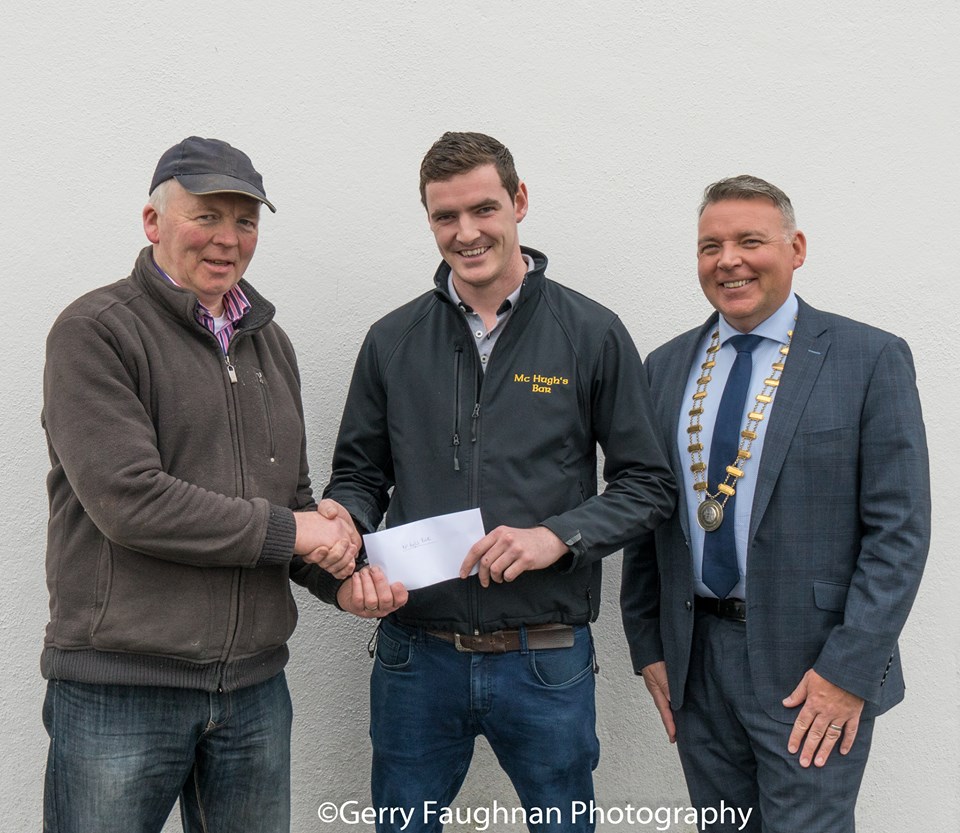 Mc Hugh's Bar winner of the Best Overall Entry – Sponsored by Gannons Eggs and Poultry
L-R  Tom Guckian (Gannons Eggs and Poultry),  Cathal Mc Guinness  (Mc Hugh's Bar) and
Colm Mc Grath (Carrick Chamber President)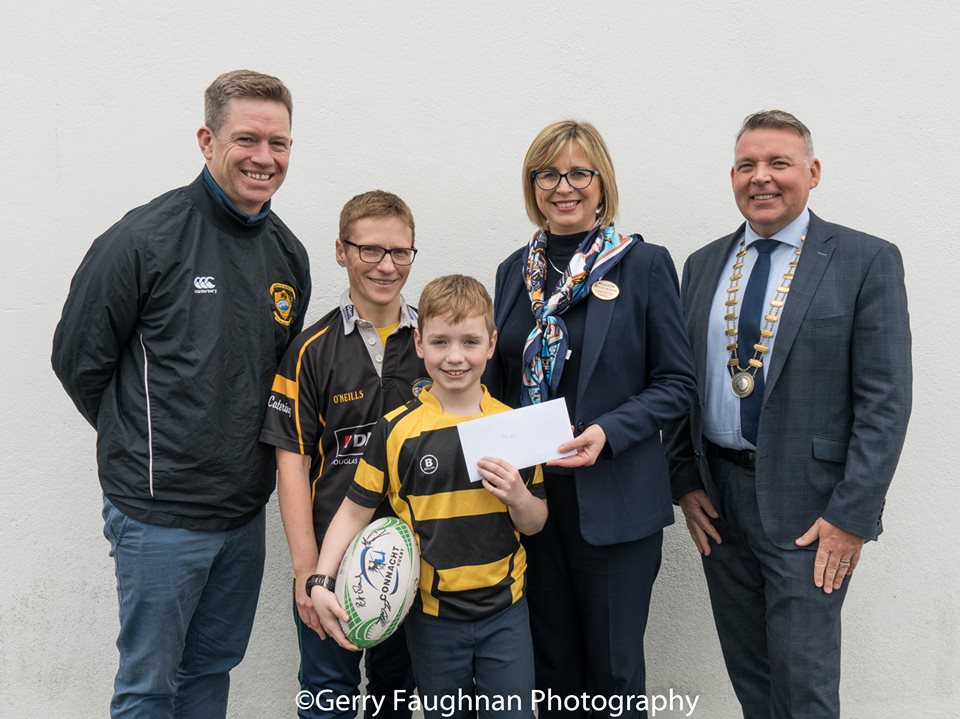 Carrick Rugby Club winner of the Best Children's Entry –  Sponsored by Mulvey's Kids Kingdom
L-R:  Niall Hanrahan, Susanne O'Beirne,  Alan O'Beirne (Carrick Rugby Club), Catherine Feely (Mulvey's Kidz Kingdom) and Colm McGrath (Carrick Chamber President)
Scoil Mhuire winner of the Most Creative Entry – Sponsored by Cox's Pharmacy
Back Row L-R: Caroline Healy (Scoil Mhuire) , Colm McGrath (Carrick Chamber President),
Edel Keogh and Edwina Cahill (Scoil Mhuire)
Front Row L-R: Yusra Muradi, Fionn Abou Fakher, Irena Schott (Pupils Scoil Mhuire), Margaret Cox (Cox's Pharmacy), Zara Murphy and Cora Carey (Pupils Scoil Mhuire)
Áirc Damhsa Dance Club winner of the Best Youth Entry – Sponsored by Carrick Cineplex
L_R:  Monica Christie (Chamber Office), Rebeccah Farrell (Carrick Cineplex), Edwina Guckian (Áirc Damhsa Dance Club) and Colm McGrath (Carrick Chamber President)
Brady Insurance winner of the Best Window Display – Sponsored by Gallagher Auctioneers

L_R:  Monica Christie (Chamber Office), Yvonne Noone (Gallagher Auctioneers), Olivia McDermott (Brady Insurance), Colm McGrath (Carrick Chamber President)